Kyber Digital team
Top 5 Things Home Improvement Contractors Are Doing To Get 5-10 Phone Calls A Day
If you're a contractor or you operate as a sole proprietor, you know that it can be hard to get valuable and long-term leads.
Home improvement contractors in particular often have to battle with a slew of competitors, many of them large corporations or LLCs, many with a lot of money at their fingertips.
Any hard-working, reliable, and knowledgeable home improvement contractor can be successful.
Still, it will take a bit of hard work, both in terms of actual work but also in marketing efforts.
Luckily, there are proven plans that you can use to bring in leads, as many as 5-10 phone calls a day!
We understand how challenging this industry is, and we've provided the top 5 things that successful home improvement contractors are doing to bring in double-digit phone calls every day.
We also provide some tips for implementing these changes:
Top 5 Strategies for Raking in the Phone Calls


Your competitors are getting non-stop phone calls, but your phone remains silent.
You need to start implementing strategic marketing and marketing that is tapped into your audience.
Here are five simple things that you can implement to bring in more leads:
1. Irresistible Offers


We all have our pricing and our service packages, but good marketing taps into what people want and give it to them in a way that is hard to refuse.
If you can offer a service at a low price, great, but that isn't always the right way to go.
Maybe your services come with some other service add-on, like an assessment, that normally costs an arm-and-a-leg at a competitor or in your industry as a whole.
You could have offers set up for new homeowners, too.
This would include an assessment of their home and how you can help them, such as discounts on future work with your services or a partner's services. If they don't like the assessment, they can get a refund (within reason).
Offering discounts, coupons, and irresistible offers does come with some risks.
So you will have to be mindful of what you can and cannot offer versus what you should and should not offer. Have some action plans in place for faulty customers or scammers as well.
2. Video Marketing


Video marketing is not as difficult as it seems.
Of course, if you love to get in front of a camera, then video marketing would not worry you.
However, video marketing does not involve a production crew, cameras, and gimmicking video script sales pitches.
Instead, it can involve a simple video that is made online or through a marketing service. This video can showcase basic images, video overlays, music, and a quick script.
We recommend customizing the video script. However, the rest of the creative is up to you. Consider taking some photos of your crew on site (with a decent camera) or taking videos of the types of services you provide. It doesn't need to be super in-depth.
Consider common tips that a homeowner would need for HVAC preventative maintenance, for example, and provide them in a quick list.
You may be surprised at how helpful these videos are for potential clients and how powerful they can be as a marketing tactic!
3. Systems and Automation


Systems and automation within any business are the bread and butter of how we deliver high-quality services. When it comes to systems and automation with marketing, it's the same thing.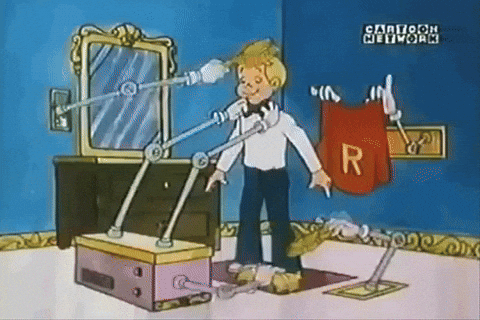 You need to establish systems, best practices, software, and automation so that you can stay on top of your leads, speed up the time from lead to conversion, simplify the process of getting all the lead information, and remind yourself of where your leads are in the sales funnel.
You can use lead tracking software, marketing automation software, expense reporting, billing, invoicing software, automated chatbots, and automated emails for follow-up, customer services, and more.
Software, technology, and automation can be a hassle. However, it's vital to streamline your process.
With technology on your side, you can have services working on your behalf to send email reminders, collect customer data, and keep billing organized.
All of this makes for a more positive customer experience and more long-term customers!
4. Operation G4


Google Analytics 4 and the Google Dominance package (all of Google's products) do make a difference in terms of getting new customers.
Your competitors—the home improvement contractors who are getting mountains of phone calls a day—for sure have all of their Google software set up. This means that they have:
Google Analytics

Local Services Ads

Google My Business

Google Ads

Google Search Engine Optimization (SEO) and Organic Search.
Here's a brief overview to get you started:
Google My Business


Google My Business is a business profile that you can set up and maintain for your business. It's free to start and easy to operate, and it helps to build authority online and provide valuable information to your clients.
Google Ads


Google Ads is a service you can sign up for to create ads that show to anyone who searches for your relevant keywords. Google Ads can be competitive and pricey, but it is one of the many things in your marketing arsenal that you need to have around.
Local Services Ads


Local Services Ads is a version of Google ads that connects you to people who are local to your area. As a contractor who is offering local services, you want to tap into these ads as they will show up online for people in your area, making your ad spend way more effective.
Google Search Engine Optimization (SEO) and Organic Search


Arguably one of the hardest steps to finish off your business puzzle, your website needs to be searchable through Google search.
Google search is often one of the biggest ways that people will find you, and when you have a lot of traffic coming to your site, you will have more people finding you organically through search.
It's helpful to have the other items set up already because this proves that you are around, verified, and have authority on Google, online, and in your area.
Google Analytics


Google Analytics will monitor the web traffic and statistics of those who visit your website and other sites connected to Google Analytics. You can use this to see how often people visit your site, where they are coming from, and much more.
5. Networking


Finally, as your business grows, know that you can collaborate with other partnerships to share traffic.
If you have contractors relevant to your field, like home improvement contractors, but they offer different services, don't hesitate to partner up and share leads.
You can also borrow traffic with interrelated fields, like real estate agencies and public adjusters, people who are regularly working with individuals who are new to an area and need connections.
Consider getting a "camp of contractors," or a local group of fellow partnerships and contractors. You can feed each other leads but also do collaborative events.
Tips for Implementing Marketing


While this list may seem daunting at first, know that you can slowly implement more of the techniques over time and continue to grow your business.
The best advice to start with is to take it slow. We don't recommend implementing all of the five things right away, but eventually, you can offer all five and continue to sail smoothly through your contracting work as well.
Additionally, as you start to implement these things, you will find that your company will grow. More clients will be asking for your services, and you should be prepared to provide them with high-quality services more often.
In these cases, you'll have to start outsourcing and subcontracting. It's a good idea to start researching these partnerships and then start reaching out to each.
You may find that you like working with another contractor, and you want to work with them early on.
Even if you don't have the business, it's okay to start building these relationships. The earlier you work with them, the more time you will have to work through the kinks and figure out what each person needs.
When you start researching subcontractors early, you can also train them. You may need to start bringing them on-site early on, so don't hesitate to offer partial contractors.
Many new subcontractors can only handle so much, and full-time contractors working on other jobs prefer this style.
Last but not least, consider outsourcing some of your marketing. We recommend an agency over individuals so that your branding stays consistent. You also want a marketing agency that can scale with you. So, do your research. We offer tiered pricing based on the package that you can afford.
Rationale


We understand how tough the home improvement industry is. We've provided the top 5 things that successful home improvement contractors are doing to bring in double-digit phone calls every day.
Provide irresistible offers

Do video marketing

Implement systems and automation

Set up your Google accounts (G4)

Share leads with fellow contractors
When implementing these, start slow and make sure processes are in place before you get ahead of yourself. You may need to subcontract work and outsource some marketing while you grow!
Kyber Courses
343 Harbor View
Forked River
NJ, 08731
(215) 305-8769